Electric Boats & Boat Motors
Why Buy an Electric Boat?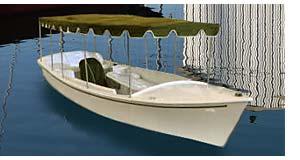 Electric boats have been around for quite some time with the first one being built more than a hundred years ago. Electric boats run off rechargeable batteries that power a small electric motor. There is no need for extra gas, oil, or a box of tools in case something tears up while you are out boating, so the running costs are extremely cheap. All you need is a battery charger or an extra battery that is fully charged. A standard 110- volt AC current will fully charge the battery in approximately 10 hours or less and the charger will automatically shut off once the battery is fully charged.
Electric boats are perfect for a lake or ocean harbor lifestyle. Leisurely moving through the water at around 5 MPH, electric boats are both quiet and environmentally safe. Electric boats are low maintenance, economical to operate, and highly durable. You can buy an electric boat made from many different lightweight materials, such as fiberglass, wood, or aluminum.
Quick Links
Fishing Boats For Sale
Bass Boats
Ski Boats For Sale
New & Used Jon Boats
New & Used Jet Skis
Canoes
Speed Boats
Inflatable Boats
Sailboats & Sailing
Electric Boats
Map For Lakes & Boating
Boat Shows
Kayaks For Sale
Boat Loans & Rates
Luxury Yachts For Sale
Inboard-Outboard Motors
Deck Boats
Boat Accessories
Boat & Boating Safety
Boat Trailers For Sale
Go green - with an electric boat!
Top brands of electric boats include Electracraft, Nauticraft, Duffy Boats, and Budsin Woodcraft with retail detailers across the USA.
Unlike the famous Ford cars of the past, electric boats come in a number of colors and typically seat 7 to 12 passengers. Some models have luxury amenities such as cushioned seats, plush carpet, canopy, overhead dome lighting, tables, swiveling captain chairs, refrigerators, wine racks, and even wheelchair access.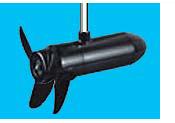 Most electric boat manufacturers offer lifetime warranties as well as a great deal of customization. Areas of the boat available for customization by some manufacturers include the canopy style, fabric choices, the hull design, cruising comforts, and personalized lettering. Buying a new electric boat will cost you from $20,000 to about $50,000. You can also purchase used electric boats in some areas.
Choose from a wide range of new and used electric boats and electric boat motors at boat dealers conveniently listed by state and then by city. Use the "Boat Dealers" pull down navigation above to locate a boat dealer close to you.
Find boat dealers which offer electric boats.

Boats & Boating
Electric boats for green boating.