Jet Skis & Personal Watercraft
Jet Ski Fun All Summer Long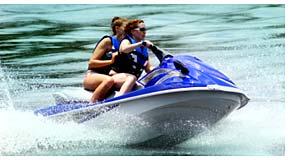 Kawasaki Motor Company invented Jet skis as personal water craft in 1973. Since then, millions of people around the world have enjoyed the thrill of racing along the water on a jet ski. Usually, ridden by one person, jet skis are popular in lake and quiet waters. In some areas, you can even hire a jet ski for a few hours while on vacation. Most models of jet skis are designed with full safety standards. Jet skis propel a jet of water from the back of the craft to skim across the water.
Jet ski rentals for weekend fun.
Renting jet skis make for fun and affordable activities for the entire family and friends. You can even go on jet ski safari vacations and explore wonderful new waterways while on vacation. Jet skis are also known as wave runners or personal water craft (PWC). Whatever you call it, racing on a jet ski is a fun way to spend a summer afternoon.
Companies like Polaris Industries Inc., Yamaha Motor Corp, Hamilton Jet Designs, Bombardier of Canada, Kawasaki Motor Company, and the American Honda Motor Co. Inc. design jet skis and jet boats to bring the joy of jet boating to the public.
Jet skis are mainly designed for the enjoyment of water sports and are classified into sitting and standing crafts. Before renting a Jet ski, a short tutorial is needed just to get an idea on managing the unusual style craft on water. It is much cheaper to rent a Jet ski, especially when on vacation. You can rent these jet skis either from your local shop or at the shore.
Quick Links
Fishing Boats For Sale
Bass Boats
Ski Boats For Sale
New & Used Jon Boats
New & Used Jet Skis
Canoes
You can purchase new or used jet skis too. Some boat clubs hold races for jet skis and regular participants who have come to love the thrills associated with jet ski riding will always purchase a jet ski.
Jet skis and personal watercraft for sale or rent.

Boats & Boating
Buy or rent a jet ski or personal watercraft.