Florida Boats
Boat dealers and boats for sale in FL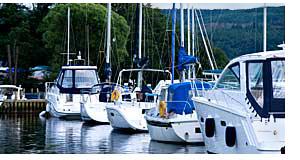 Florida, with its extensive coastline and abundant waterways, is a haven for boat enthusiasts, offering a diverse selection of boats for sale. Whether it's new or used, there are boats to suit every budget and preference, making it a popular destination for boat buyers and sellers alike.
Among Florida's major lakes, Lake Okeechobee stands out as one of the largest and most renowned fishing lakes in the state. Its expansive waters provide ample opportunities for fishing and recreational boating. Other major lakes like Lake Kissimmee and Lake George also offer exceptional boating experiences, attracting water enthusiasts from all over.
Florida's boat types cater to a wide range of boating activities and preferences. Fishing boats, equipped with features like rod holders and live wells, are tailored to accommodate anglers seeking to reel in various fish species found in Florida's waters. Family boats, on the other hand, prioritize comfort and safety, making them perfect for families seeking leisurely cruises and fun on the water.
For those who enjoy relaxing days on the water, pontoon boats are a favorite choice. Known for their spacious decks and comfortable seating, pontoon boats offer a social and enjoyable boating experience for friends and families to share. Meanwhile, powerboats provide thrill-seekers with speed and excitement, perfect for water sports enthusiasts seeking an adrenaline rush.
Aluminum boats, known for their durability and versatility, are well-suited for exploring shallow waters and navigating through Florida's mangroves and marshes. These sturdy vessels provide an excellent option for anglers and outdoor adventurers alike.
Boat rentals are widely available throughout Florida. Whether it's for a day of fishing or an afternoon cruise, boat rental options allow visitors and locals alike to enjoy the freedom of boating without the responsibility of maintenance.
With a variety of boats for sale, major lakes, and boat types, Florida's boating scene caters to every boater's desire, ensuring unforgettable experiences on its beautiful waterways. Whether it's fishing, family outings, or leisurely rides, Florida's boats offer endless possibilities for exploring its stunning coastlines and enjoying the joys of boating in the Sunshine State.
With all the boating opportunities in Florida, it's no wonder there is so many boat dealers throughout the state offering a wide variety of boats for sale. If you like to sightsee, cruise, fish or water ski, there are dealers with your dream boat for sale. To locate a dealer near you, first select a quadrant of the state. Then find a boat dealer listed by proximity to cities, waterways, campgrounds and attractions in FL.
Locate boats for sale throughout FL
For further information about boat registration in Florida, contact the Department of Highway Safety & Motor Vehicles - Boat Licenses located at 5400 NW 22nd Avenue, Miami, FL 33142 . The phone number is 850 617-2000.
Florida Resources
Fort Walton Beach
Tropical Yacht Sales
328 Elliott Rd Se
Fort Walton Beach, FL 32548
850 243-8733
Sabre Sails & Canvas Shop
123 McGriff Street Northeast
Fort Walton Beach, FL 32548
850 244-0001
FT Walton Beach Yacht Sales
240 Eglin Parkway Southeast
Fort Walton Beach, FL 32548
850 243-8885
Tropical Yacht Sales
212 Hollywood Boulevard Southwest
Fort Walton Beach, FL 32548
850 243-8733
Sailfish of NW Florida
22 Miracle Strip Parkway South
Fort Walton Beach, FL 32548
850 243-8002
Travis Boating Center - Sales
1318 Miracle Strip Parkway South
Fort Walton Beach, FL 32548
850 244-1099
Panama City Beach
Panama City Parasail Inc
145 Christopher Dr
Panama City Beach, FL 32413
850 234-2122
The Boatlift Barn
2914 Thomas Dr
Panama City Beach, FL 32408
850 234-7667
Pensacola
Flagship Yacht Sales
1000 S Pace Blvd
Pensacola, FL 32502
850 432-5500
Edgewater Yacht Sales
13700 River Rd
Pensacola, FL 32507
850 492-2588
Phillips Marine Sales
7301 W Highway 98
Pensacola, FL 32506
850 455-6336
Flagship Yacht Sales
1901 Cypress Street
Pensacola, FL 32501
850 439-9073
J & M Sales & Engineering
50 South E Street
Pensacola, FL 32501
850 434-6973
Murry Yacht Sales
3502 Barrancas Avenue
Pensacola, FL 32507
850 457-1120
Tallahassee
Sunshine Boats Of Tallahassee Inc
3464 Garber Dr
Tallahassee, FL 32303
850 576-5134
Don's Boats
2504 West Tennessee Street
Tallahassee, FL 32304
850 575-9535
Sunshine Boats of Tallahassee
6401 West Tennessee Street
Tallahassee, FL 32304
850 580-2628
Gainesville
Wholesale Marine
1104 NW 50Th Ave, Ste B
Gainesville, FL 32609
352 372-9333
North Florida Truck Sales
5601 Northwest 13th Street
Gainesville, FL 32653
352 375-3165
Boy's Auto & Boat Upholstery
2808 Northeast 21st Way
Gainesville, FL 32609
352 375-6700
Brian's Boats
5104 Northwest 109th Lane
Gainesville, FL 32653
386 462-3118
Jacksonville
Dick Boger Yacht Sales
2305 Beach Blvd, Ste 106
Jacksonville Beach, FL 32250
904 247-7966
North Florida Yacht Sales
8940 San Jose Blvd
Jacksonville, FL 32257
904 733-7502
Mark Zeigler Yacht Sales
4508 Lakeside Dr
Jacksonville, FL 32210
904 387-6300
Jacksonville Yacht Sales
314603 Beach Blvd
Jacksonville, FL 32099
904 223-3600
Jacksonville Yacht Sales
14603 Beach Blvd, Ste 700
Jacksonville Beach, FL 32250
904 215-1727
Goodbys Creek Marina And Yacht Sales
8940 San Jose Blvd
Jacksonville, FL 32257
904 730-2970
Orlando
Correct Craft Inc
14700 Aerospace Pkwy
Orlando, FL 32832
407 855-4141
Southeast Correct Craft Inc
7576 S Orange Ave
Orlando, FL 32809
407 851-1965
Mai Boat Service
6128 Hoffner Ave
Orlando, FL 32822
407 382-8565
B And B Boats Inc
3568 Old Winter Garden Rd
Orlando, FL 32805
407 299-2190
Boatwrench Inc Lake Fairview M
4503 N Orange Blossom Trl
Orlando, FL 32804
407 295-0117
Central Florida Boating Center
5500 East Colonial Drive
Orlando, FL 32807
407 281-9279
Miami
Arch Creek Yacht Sales
13255 Biscayne Blvd
North Miami, FL 33181
305 947-6446
Sunshine Yacht Sales Inc
19700 NE 21st Ct
Miami, FL 33179
305 933-5858
Crisco Yacht Sales
250 N Biscayne River Dr
Miami, FL 33169
305 949-3870
Custom Brokerage Yacht Sales
11422 Southwest 87th Terrace
Miami, FL 33173
305 598-9875
Arch Creek Yacht Sales
1940 Northeast 135th Street
North Miami, FL 33181
305 947-6446
Merrill-Stevens Yacht Sales
1270 Northwest 11th Street
Miami, FL 33125
305 547-2650
Sarasota
Jung Charters Yacht Sales
8051 N Tamiami Trl, Ste 56
Sarasota, FL 34243
941 355-1161
Ullman Sails Florida
957 North Lime Avenue
Sarasota, FL 34237
941 955-4758
Fish Tale Sales & Brokerage
2005 North Tamiami Trail
Sarasota, FL 34234
941 365-8100
Hap's Cycle Sales Inc
2530 17th Street
Sarasota, FL 34234
941 365-3443
World Class Yacht Sales Inc
7222 South Tamiami Trail
Sarasota, FL 34231
941 925-1439
Bayside Marine Sales & Service
7981 North Tamiami Trl
Sarasota, FL 34243
941 351-9023
Tampa
Arts Gheenoe Sales
9608 N Nebraska Ave
Tampa, FL 33612
813 935-4011
Bobs Marine Sales And Service Inc
14038 N Florida Ave
Tampa, FL 33613
813 961-8187
Bayside Marine Sales And Services
5216 W Tyson Ave
Tampa, FL 33611
813 831-5757
Hudson Sales
4139 Causeway Boulevard
Tampa, FL 33619
813 247-4393
Savich & Lee Wholesale
6902 Causeway Boulevard
Tampa, FL 33619
813 620-3006
King Trailer Sales & Service
610 E Waters Ave
Tampa, FL 33604
813 932-6091
Some of the major cities we have listed for your convenience include Orlando, Tampa, Pensacola, Alachua, Florida Keys, Gainesville, Jacksonville, Fort Walton Beach, Panama City Beach, Tallahassee, Miami, Deltona, Sarasota, St Petersburg and Marianna.
New & Used Boats
Florida boat dealers are familiar with boating requirements in FL. They can easily assist you in selecting the right boat for your intended use, as well as make suggestions for boating safety and ways to keep operating costs to a minimum.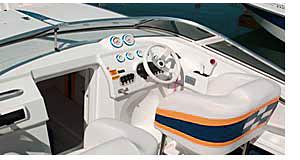 Most of these boat dealers offer new and used boats in many styles and configurations. You can find fishing boats, deck boats, pontoon boats, bow riders and party boats. Some boat dealers may also offer bay and offshore boats for larger bodies of water and coastal use.
Places to boat in Florida
Once you acquire the ideal boat, we'll help you find places to boat in Florida. Lakes are listed by quadrant within the state for convenience. The list of major lakes includes Lake Apopka, Lake George, Dead Lakes, Deer Point Lake, Lake Harris, Juniper Lake, Lake Seminole, Lake Istokpoga, Lake Kissimmee, Lake Talquin, Crescent Lake, Lake Griffin, Lake Tohopekaliga, Lake Hatchineha and Lake Okeechobee.
Rivers too can be a fun place to go boating and are listed by quadrant also. Some of the major rivers we've identified include Chipola River, Peace River, St Johns River, Santa Fe River, Kissimmee River and Ochlockonee River.
Find boats for sale in Florida
Boat companies and manufacturers in Florida
Throughout Florida you may find manufacturers of boats, boat trailers or boat accessories, gear, electronics, boat motors, safety equipment and other related boat manufacturers including Regal Boats and Storm High Performance Boats.
Boat types commonly used on FL waters.
If you are looking for a specific type boat, we may have information for you. Some of the boat types we cover include sailboats, pleasure boats, family boats, pontoon boats, cruisers, fishing boats, bass boats, speedboats, inflatables, jon boats, cuddy cabin boats, canoes, car toppers, ski & wake board boats, deck boats, aluminum boats, electric boats, jet skis, personal watercraft and fish-and-ski combos.
We'll help you find the boat, waterways and resources to make owning or renting a boat in Florida an absolute pleasure.
Boats in Other States