Alaska Boats
Boat dealers and boats for sale in AK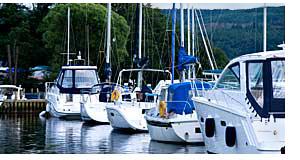 Alaska, with its vast coastline and numerous lakes, is a haven for boating enthusiasts. There are various types of boats available in the state, catering to different purposes and preferences. For those looking to own their vessel, Alaska offers a thriving market of boats for sale. From fishing boats to kayaks, buyers can find a wide selection of watercraft to suit their needs and budgets.
Some of the major lakes in Alaska provide excellent opportunities for boating and water activities. Lakes like Kenai Lake, Mendenhall Lake, and Big Lake are popular destinations where boaters can enjoy the serene beauty of Alaska's wilderness. Boating on these lakes allows visitors to immerse themselves in nature, surrounded by stunning mountain vistas and abundant wildlife.
Fishing boats are particularly common in Alaska due to its world-class fishing opportunities. Anglers can find a variety of fishing boats designed for specific fishing techniques and species, including salmon, halibut, and trout. These specialized fishing boats are equipped with features like fishing rod holders, live wells, and fish finders to enhance the angling experience.
For families seeking leisurely outings on the water, pontoon boats are a popular choice. These spacious and stable vessels offer comfort and relaxation, making them perfect for picnics, sightseeing, and enjoying quality time with loved ones on the water.
Powerboats are also prevalent in Alaska, especially among those who want to explore larger bodies of water and cover greater distances. These boats offer speed and versatility, enabling boaters to venture into remote areas and discover hidden gems along the coastline.
Alaska's boat market is diverse, offering a wide range of boats for sale to suit various purposes and preferences. From fishing boats to family-friendly pontoons and powerful speedboats, there's a watercraft to cater to every boating enthusiast's needs. With its stunning lakes and coastal waters, Alaska provides an ideal playground for boaters to explore and experience the breathtaking beauty of the Last Frontier.
With all the boating opportunities in Alaska, it's no wonder there is so many boat dealers throughout the state offering a wide variety of boats for sale. If you like to sightsee, cruise, fish or water ski, there are dealers with your dream boat. To locate a dealer near you, first select a quadrant of the state. Then find a boat dealer listed by proximity to cities, waterways, campgrounds and attractions in AK.
Locate boats for sale throughout AK
For further information about boat registration in Alaska, contact the Alaska Division of Motor Vehicles - Boat Licenses located at 1300 W Benson Boulevard, STE 900, Anchorage AK 99503. The phone number is 907 269-5559.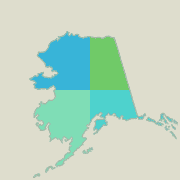 Some of the major cities we have listed for your convenience include North Pole, Juneau, Naknek, Petersburg, Quinhagak, Chicken, Butte, Fairbanks, Kaktovik, Barrow, Bethel, Hooper Bay, Ninilchik, Togiak, Soldotna, Anchorage, Delta Junction, Glennallen, Haines and Juneau.
Alaska boat dealers are familiar with boating requirements in AK. They can easily assist you in selecting the right boat for your intended use, as well as make suggestions for boating safety and ways to keep operating costs to a minimum.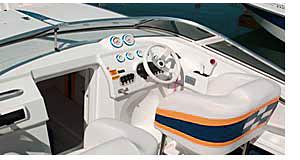 Most of these boat dealers offer new and used boats in many styles and configurations. You can find fishing boats, deck boats, pontoon boats, bow riders and party boats. Some AK boat dealers may also offer bay and offshore boats for larger bodies of water and coastal use.
Places to Boat In Alaska
Once you acquire the ideal boat, we'll help you find places to boat in Alaska. Lakes are listed by quadrant within the state for convenience. The list of major lakes includes Chandalar Lake, Tangle Lakes, Crow Lake, Devil Mountain Lakes, Walker Lake, Aleknagik lake, Iniakuk Lake, Teshekpuk Lake, Camp Lake, Iliamna Lake, Tulugak Lake, Bear Lake, Teshekpuk Lake, Becharof Lake, Crescent Lake, Swan Lake, Twin Lakes, Abyss Lake, Lake Alexander and Lake Clark. Some of these lakes have nearby campgrounds and RV parks, making it easier to extend your boating trip by camping near the lake. Also consider renting a motorhome in Alaska to make camping near some of the more remote lakes a bit safer and more comfortable. Alaska motorhome and RV dealers are anxious to demonstrate how motorhomes allow you have the comforts of home, while you enjoy the great outdoors.
Rivers too can be a fun place to go boating and are listed by quadrant also. Some of the major rivers we've identified include Kuskokwim River, Yukon River, Colville River, Susitna River, Porcupine River, Koyukuk River, Copper River and Kobur River.
Find boats for sale in Alaska
Northwest AK Boats For Sale
Northeast AK Boats For Sale
Southwest AK Boats For Sale
Southeast AK Boats For Sale
Boat companies and manufacturers in Alaska
Throughout AK you may find manufacturers of boats, trailers or boat accessories including Alaska Airboats and Alaska Hovercraft.
Boat types commonly used on AK waters.
If you are looking for a specific type boat, we may have information for you. Some of the boat types we cover include sailboats, pleasure boats, family boats, pontoon boats, cruisers, fishing boats, bass boats, speedboats, inflatables, jon boats, cuddy cabin boats, canoes, car toppers, ski & wake board boats, deck boats, aluminum boats, electric boats, jet skis, personal watercraft and fish-and-ski combos.
We'll help you find the boat, waterways and resources to make owning or renting a boat in Alaska an absolute pleasure.
Boats in Other States