Hawaii Boats
Boat dealers and boats for sale in HI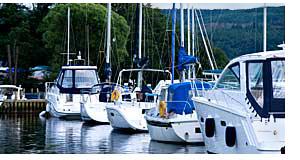 Hawaii, with its picturesque coastlines and crystal-clear waters, attracts boat enthusiasts from around the world. For those looking to purchase boats in Hawaii, there are various options available, including both new and used vessels. Whether it's for leisurely cruising, water sports, or fishing, prospective boat buyers can find a wide selection of boats for sale to suit their preferences and needs.
While Hawaii is famous for its stunning beaches and ocean activities, it does not have major lakes like some other states. Instead, the primary focus for boating in Hawaii revolves around its vast ocean and coastal areas. Boaters in Hawaii enjoy exploring the beautiful coves, reefs, and offshore islands, where they can encounter an array of marine life and experience the unique charm of the Aloha State.
When it comes to boat types in Hawaii, there is a boat for every purpose. Fishing boats are popular among anglers who want to venture into the deep sea or explore the rich fishing grounds near the shore. Family boats, such as bowriders or deck boats, are ideal for leisurely cruising and water activities, offering comfortable seating and amenities for all-day fun on the water.
Aluminum boats, known for their durability and lightweight construction, are sought after for their versatility in navigating both inland waters and coastal areas. They are particularly well-suited for fishing and exploring shallow areas. Additionally, for those who wish to enjoy boating without the commitment of owning a boat, boat rental services are available throughout Hawaii. These rentals offer a convenient way to experience boating without the responsibilities of maintenance and storage.
Boating in Hawaii offers a magical experience with its breathtaking scenery and an abundance of marine life. Whether one is in search of a boat to purchase, interested in fishing, or simply wants to enjoy a relaxing day on the water, Hawaii provides an enchanting setting to create lasting memories and embark on unforgettable aquatic adventures.
With all the boating opportunities in Hawaii, it's no wonder there is so many boat dealers throughout the state offering a wide variety of boats for sale. If you like to sightsee, cruise, fish or water ski, there are dealers with your dream boat for sale. To locate a dealer near you, first select a quadrant of the state. Then find a boat dealer listed by proximity to cities, waterways, campgrounds and attractions in HI.
New & Used Boats
For further information about boat registration in Hawaii, contact the Hawaii Division of Boating & Ocean Recreation - Boat Licenses located at 1151 Punchbowl St, Honolulu, HI 96813. The phone number is 808 587-0400.
Hawaii Resources
Honolulu
Island Work Boats
264 Kalihi St, Ste 102
Honolulu, HI 96819
808 851-7477
Brookins Boatworks Ltd
5 Sand Island Access Rd, Unit 117
Honolulu, HI 96819
808 841-2525
Art Nelson Sailmaker Inc
1163 Kona Street
Honolulu, HI 96814
808 593-9958
North Sails Hawaii Inc
742 Queen Street # 300
Honolulu, HI 96813
808 591-9192
Outboard Sales & Service
211 Mokauea Street
Honolulu, HI 96819
808 841-2428
Windward Boats Inc
789 Kaaloa Street
Honolulu, HI 96826
808 263-6030
Hilo
Boat House Hawaii
258 Silva St
Hilo, HI 96720
808 935-1334
Some of the major cities we have listed for your convenience include Pukalani, Waikoloa Village, Princeville, Island of Kauai, Honokaa, Kahului, Maalaea, Honolulu, Pearl City, Waianae, Hilo, Island of Oahu, Kalaoa, Mountain View and Makakilo City.
Hawaii boat dealers are familiar with boating requirements in HI. They can easily assist you in selecting the right boat for your intended use, as well as make suggestions for boating safety and ways to keep operating costs to a minimum.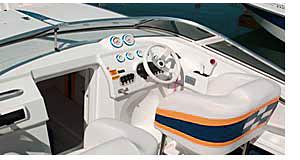 Most of these boat dealers offer new and used boats in many styles and configurations. You can find fishing boats, deck boats, pontoon boats, bow riders and party boats. Some boat dealers may also offer bay and offshore boats for larger bodies of water and coastal use.
Places to boat in Hawaii
Once you acquire the ideal boat, we'll help you find places to boat in Hawaii. Lakes are listed by quadrant within the state for convenience. The list of major lakes includes Kakahai I Fishpond, Kamahu'ehu'e Fishpond, Alexander Reservoir, Kanaha Ponds, Wahikuli Reservoir, Lake Wilson, Lualaulei Reservoir, Kuhio Bay, Lokowaka Pond, Papuaa Reservoir, Crater Reservoir, Papaaea Reservoir, Puukapu Reservoir, Hilo Bay and Nauruan Reservoir No 4.
Rivers too can be a fun place to go boating and are listed by quadrant also. Some of the major rivers we've identified include Olokele River, Wailuku River, Kahakuloa Stream, Hanawi Stream, Honolii Stream and Wailau River.
Boat companies and manufacturers in Hawaii
Throughout HI you may find manufacturers of boats, trailers or boat accessories including Alii Kai Boat Builders and Brookins Boatworks.
Boat types commonly used on HI waters.
If you are looking for a specific type boat, we may have information for you. Some of the boat types we cover include sailboats, pleasure boats, family boats, pontoon boats, cruisers, fishing boats, bass boats, speedboats, inflatables, jon boats, cuddy cabin boats, canoes, car toppers, ski & wake board boats, deck boats, aluminum boats, electric boats, jet skis, personal watercraft and fish-and-ski combos.
We'll help you find the boat, waterways and resources to make owning or renting a boat in Hawaii an absolute pleasure.
Boats in Other States