Wyoming Boats
Boat dealers and boats for sale in WY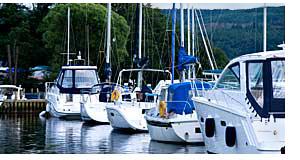 Wyoming, known for its vast landscapes and outdoor recreational opportunities, attracts boat enthusiasts seeking to explore the state's picturesque lakes and rivers. Boats for sale in Wyoming range from fishing boats to family boats, offering options to suit various interests and preferences.
Among the major lakes in Wyoming, Jackson Lake in Grand Teton National Park is a breathtaking destination for boaters. With the stunning backdrop of the Teton Range, this lake offers a serene setting for leisurely boating and family outings.
Boat types available in Wyoming cater to different activities and water conditions. Fishing boats are popular for anglers looking to cast their lines and reel in the abundant fish found in Wyoming's waters, while family boats provide comfortable and spacious options for spending quality time on the lake with loved ones.
Pontoon boats are a favorite choice for relaxing and socializing on the water. With their stable and open design, pontoon boats offer ample seating and space for gatherings, making them ideal for leisurely cruises and enjoying scenic views.
Powerboats, with their speed and versatility, attract thrill-seekers and water sports enthusiasts. Whether it's water skiing, wakeboarding, or tubing, powerboats provide the excitement and adrenaline rush for those seeking aquatic adventures.
Aluminum boats are favored for their durability and affordability. These lightweight boats are well-suited for exploring various water bodies in Wyoming, from serene lakes to shallow rivers and streams, making them a popular option among boaters.
For visitors without their boats, boat rental services are available across the state. Boat rental options allow individuals and families to experience the joys of boating without the commitment of boat ownership. Whether it's a fishing boat for a day of angling or a pontoon boat for a relaxing lake excursion, boat rentals provide access to a variety of watercraft, allowing everyone to savor the beauty of Wyoming's lakes and rivers and create unforgettable memories on the water.
With all the boating opportunities in Wyoming, it's no wonder there is so many boat dealers throughout the state offering a wide variety of boats for sale. If you like to sightsee, cruise, fish or water ski, there are dealers with your dream boat for sale. To locate a dealer near you, first select a quadrant of the state. Then find a boat dealer listed by proximity to cities, waterways, campgrounds and attractions in WY.
Locate boats for sale throughout WY
For further information about boat registration in Wyoming, contact the Wyoming Game & Fish Department - Boat Licenses located at 5400 Bishop Boulevard, Cheyenne, WY 82006. The phone number is 307-777-4600.
New & Used Boats
Wyoming Resources
Jackson
Mad River Boat Trips Inc
1255 South Highway 89 & S USHw
Jackson, WY 83001
307 733-6203
Rock Springs
J J Boat Rv Center
210 B St
Rock Springs, WY 82901
307 362-1374
Some of the major cities we have listed for your convenience include Upton, Lusk, Pinedale, Powell, Rock Springs, Buffalo, Cheyene, Kaycee, Newcastle, Cody, Alton, Landon, Lovell, Riverton, Shoshoni, Casper, Gillette, Hanna, Laramie and Jackson.
Wyoming boat dealers are familiar with boating requirements in WY. They can easily assist you in selecting the right boat for your intended use, as well as make suggestions for boating safety and ways to keep operating costs to a minimum.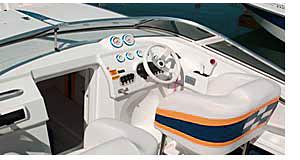 Most of these boat dealers offer new and used boats in many styles and configurations. You can find fishing boats, deck boats, pontoon boats, bow riders and party boats. Some boat dealers may also offer bay and offshore boats for larger bodies of water and coastal use.
Places to boat in Wyoming
Once you acquire the ideal boat, we'll help you find places to boat in Wyoming. Lakes are listed by quadrant within the state for convenience. The list of major lakes includes Bull Creek Reservoir, Keyhole Reservoir, Bighorn Lake, Boysen Reservoir, Lake DeSmet, Big Sandy Reservoir, Buffalo Bill Reservoir, Jackson Lake, Glendo Reservoir, Lake Hattie Reservoir, Ocean Lake, Battle Creek Reservoir, Klodt Reservoir, Flaming Gorge Reservoir, Fontenelle Reservoir, Seminoe Reservoir, Woodruff Narrows Reservoir, Alcova Reservoir, Pathfinder Reservoir and Fremont Lake.
Rivers too can be a fun place to go boating and are listed by quadrant also. Some of the major rivers we've identified include Muddy Creek, Popo Agie River, Greybull River, Medicine River, Powder River, Clear River, Laramie River and Shoshone River.
Find boats for sale in Wyoming
Boat companies and manufacturers in Wyoming
Throughout WY you may find manufacturers of boats, trailers or boat accessories including Bellwood Boats and South Forks Skiff Boats.
Boat types commonly used on WY waters.
If you are looking for a specific type boat, we may have information for you. Some of the boat types we cover include sailboats, pleasure boats, family boats, pontoon boats, cruisers, fishing boats, bass boats, speedboats, inflatables, jon boats, cuddy cabin boats, canoes, car toppers, ski & wake board boats, deck boats, aluminum boats, electric boats, jet skis, personal watercraft and fish-and-ski combos.
We'll help you find the boat, waterways and resources to make owning or renting a boat in Wyoming an absolute pleasure.
Boats in Other States