Alabama Boats
Boat dealers and boats for sale in AL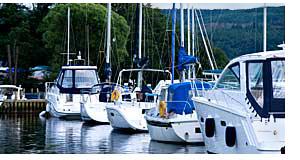 Alabama's diverse waterways and stunning coastline make it a prime destination for boating enthusiasts. With a wide range of lakes, rivers, and the Gulf of Mexico, boating in Alabama offers an array of experiences for water lovers. The state's boating scene encompasses various boat types to suit different interests and activities.
For those looking to own their own vessel, Alabama provides a vibrant market for boats for sale. Boat dealerships, private sellers, and marine retailers offer an extensive selection of new and used boats, accommodating different budgets and preferences. From sleek speedboats for thrilling water sports to spacious pontoon boats for leisurely cruises, boaters can find their dream watercraft to explore the beauty of Alabama's waterways.
However, not everyone wishes to own a boat, and that's where boat rental services come in handy. Alabama offers numerous boat rental options, allowing residents and visitors alike to enjoy boating without the long-term commitment. Rental services cater to various boat types, including pontoons, fishing boats, ski boats, and more. Whether it's a day of fishing, water skiing, or simply exploring the scenic shores, boat rental services offer a convenient way to enjoy Alabama's natural splendor without the responsibilities of boat ownership.
Boating in Alabama provides the opportunity to create lasting memories with family and friends. Whether you're cruising on one of the state's serene lakes, navigating its winding rivers, or basking in the coastal beauty of the Gulf, Alabama's boating experiences are as diverse as its breathtaking landscapes. With a plethora of boat types available for purchase and convenient rental options, Alabama's boating community can relish in the thrill of the water, savoring the sights and sounds that make boating in this Southern state truly unforgettable.
With all the boating opportunities in Alabama, it's no wonder there is so many boat dealers throughout the state offering a wide variety of boats for sale. If you like to sightsee, cruise, fish or water ski, there are dealers with your dream boat for sale. To locate a dealer near you, first select a quadrant of the state. Then find a boat dealer listed by proximity to cities, waterways, campgrounds and attractions in AL.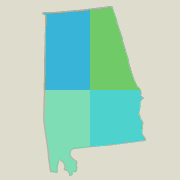 Some of the major cities we have listed for your convenience include Woodville, Ozark, Mobile, Decatur, Thomasville, Cedar Bluff, Dothan, Guntersville, Huntsville, Athens, Camden, Grand Bay, Cherokee, Selma, Northport, Auburn, Gadsden, Greenville, Montgomery and Burmingham.
New & Used Boats
Alabama boat dealers are familiar with boating requirements in AL. They can easily assist you in selecting the right boat for your intended use, as well as make suggestions for boating safety and ways to keep operating costs to a minimum.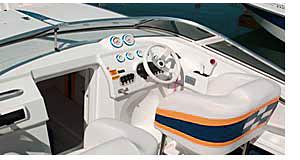 Most of these boat dealers offer new and used boats in many styles and configurations. You can find fishing boats, deck boats, pontoon boats, bow riders and party boats. Some boat dealers may also offer bay and offshore boats for larger bodies of water and coastal use.
Locate boats for sale throughout AL
For further information about boat registration in Alabama, contact the Alabama Department of Public Safety - Boat Licenses located at 301 South Ripley Street, Montgomery, AL 36104. The phone number is 334 242-4371.
Places to boat in Alabama
Once you acquire the ideal boat, we'll help you find places to boat in Alabama. Lakes are listed by quadrant within the state for convenience. The list of major lakes includes Lake Neely Henry, Lake Wedowee, Bear Creek Reservoir, Cedar Reservoir, Wilson Lake, Aliceville Lake, Pickwick Lake, Wheeler Lake, Lake Martin, Lay Lake, Wilson Lake, Guntersville Lake, Lake Weiss, Bear Bay, Bill Dannelly Reservoir, Walter F. George Reservoir, Lake Eufaula, Lake Harding, Sehoy Lake and Coffeeville Lake.
Rivers too can be a fun place to go boating and are listed by quadrant also. Some of the major rivers we've identified include Alabama River, Escatawpa River, Black Warrior River, Choctawhatchee River, Tallapoosa River, Coosa River, Chattahoochee River and Tennessee River.
Find boats for sale in Alabama
Northwest AL Boats For Sale
Northeast AL Boats For Sale
Southwest AL Boats For Sale
Southeast AL Boats For Sale
Boat companies and manufacturers in Alabama
Throughout AL you may find manufacturers of boats, trailers or boat accessories including Caribiana Sea Skiffs and Dynasty Boats.
Boat types commonly used on AL waters.
If you are looking for a specific type boat, we may have information for you. Some of the boat types we cover include sailboats, pleasure boats, family boats, pontoon boats, cruisers, fishing boats, bass boats, speedboats, inflatables, jon boats, cuddy cabin boats, canoes, car toppers, ski & wake board boats, deck boats, aluminum boats, electric boats, jet skis, personal watercraft and fish-and-ski combos.
We'll help you find the boat, waterways and resources to make owning or renting a boat in Alabama an absolute pleasure.
Boats in Other States