Bass Boats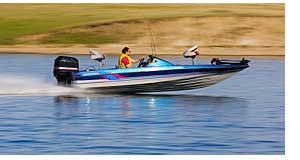 If you love to go freshwater fishing in rivers, streams, and lakes, a bass boat is the boat for you. Bass boats typically have two motors, an outboard motor with up to 300 horsepower some easily reaching speeds over sixty mph and a trolling motor for very slow maneuvering within an angler's fishing area. The deck area has a large fishing platform.
Most bass boats are javelin-shaped with a narrowed pad at the transom allowing the boats to plane on the top of the water. Bass boats can be constructed from aluminum or fiberglass. Aluminum is lighter weight and is less expensive. However, if you are looking for more space, larger motor capacity, or better handling, a fiberglass bass boat may be your preference.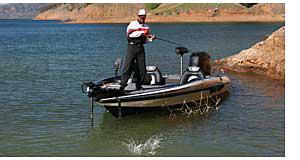 Modern bass boat styles have swiveling chairs for easy turning as a fish on the line runs from one side of the boat to the other underneath and back again. Most models have electronics for fish finding, rod holders, and live fish wells for storing your catch, and a deck-casting platform in the bow and stern as well.
Bass boats are designed for two fishermen. Some seat up to four anglers comfortably and range in size from 16' to 25' with prices ranging from several thousand dollars to over $40,000. You can usually put your bass boat on a trailer for easy transport to and from various rivers, streams, lakes or other waterways.
Some of the top bass boats manufacturers include:
• Skeeter – Kilgore, TX
• Ranger – Flippin, AR
• Nitro – Springfield, MO
• Stratos Murfeesboro, TN
• Tracker – Springfield, MO
• Basscat – Mountain Home, AR.
Bass boats are one of the most popular types of boat sold. Both new and used bass boats can be found at just about all boat retailers as well as numerous online web sites.
If you love catching freshwater fish, you need a bass boat. With so many options available, it is easy to find the perfect boat for your needs and your budget.
Quick Links
Fishing Boats For Sale
Bass Boats
Ski Boats For Sale
New & Used Jon Boats
New & Used Jet Skis
Canoes
Bass boat dealers offering exceptional bass boats for sale.
If you love to fish for bass, you've got to love a bass boat. Designed and built with the angler in mind, bass boats offer virtually every convenience imaginable to make bass fishing easier. Built to get you to the fish quickly and safely, these boats are a dream come true. They are available with the latest electronics for navigation and fish finding. Most come with exceptional storage for tackle and fishing rods as well as built-in ice chests and dry storage.
Locate a bass boat dealer nearby offering new and used bass boats for sale as well as accessories, repairs and maintenance for most bass boat brands.
Bass boat dealers by state.

Boats & Boating
Bass Boats & Other Boats For Sale