Ski Boats & Water Skiing
Go For Speed and Power with a Ski Boat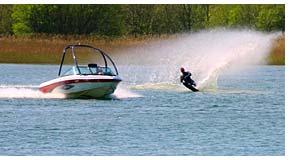 Water skiing is such a fun way to spend a day. To go water skiing, you need a good rope, a wetsuit, water-skis, and, of course, a boat that has enough horse power and speed to get you up on the plane to make it fun. Designers make ski boats to be light weight with a good keel that will cause a smooth wake, making it easy to ski behind.
Used, new, or rented, your ski boat will give you, and your family many hours of water skiing pleasure and fun. Find a ski boat to fulfill your dreams and make the best of your summer vacation.
When purchasing or renting a ski boat, you need to consider several factors, including the ease of getting your ski boat in and out of the water. You normally keep a ski boat on dry land and travel it on a boat trailer to the river or waterway you plan to water ski on.
Most ski boats do not have a full roof, although you can purchase covers for your ski boat. If you do not have an appropriate space to keep your ski boat in, you may prefer to rent a ski boat.
Quick Links
Fishing Boats For Sale
Bass Boats
Ski Boats For Sale
New & Used Jon Boats
New & Used Jet Skis
Canoes
Although you can use a ski boat to wake board behind, the best wake board boats have additional bladder tanks that you fill with water to get a heavier boat that causes a rolling wake, giving the wake-boarders more fun. If you wish to use the boat for both water skiing and wake boarding, you should get one with the bladder tanks and empty the tanks when water skiing.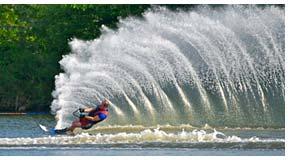 Whether you purchase a new ski boat, a used ski boat, or even rent your ski boat, you will have a fun day all day. Young children love sitting behind a speed boat in a floating tube and older children can learn to water-ski behind the ski boat. Always ensure you have a spotter facing the skiers and telling the driver when to stop, checking that the skiers are safe.
Locate ski boats and skiing accessories.

Boats & Boating
Ski boats and combination fish-and-ski boat options.