Georgia Boats
Boat dealers and boats for sale in GA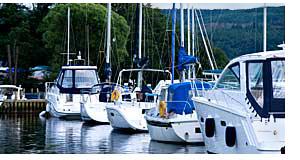 Georgia, with its abundant waterways and coastal regions, offers a thriving boat industry that caters to a wide range of boating enthusiasts. Boats for sale are readily available throughout the state, providing options for those seeking to own their vessel. Whether it's for recreational boating, fishing, or exploring the scenic coastline, prospective buyers can find a variety of boats to suit their needs and preferences.
The state is home to several major lakes, including Lake Lanier, Lake Oconee, and Lake Allatoona. These expansive bodies of water attract boaters from all over, providing ample opportunities for boating adventures, watersports, and fishing experiences.
Boat types in Georgia cater to various activities and interests. Fishing boats, specifically designed for anglers, come equipped with features such as fishing decks, live wells, and fish finders to enhance the fishing experience. Families looking for quality time on the water can opt for family boats, which prioritize comfort and safety, providing ample seating and amenities for all to enjoy.
Pontoon boats, popular among leisure boaters, offer a stable and spacious platform for relaxation and socializing. With their large decks, they are ideal for picnics, parties, and cruising along the tranquil waters of lakes and rivers.
Powerboats, known for their speed and agility, are favored by watersports enthusiasts. These boats come in various styles, from high-speed runabouts to sleek and elegant cruisers, offering thrilling rides and memorable experiences on the water.
Aluminum boats, favored for their durability and affordability, are versatile vessels suitable for fishing, exploring shallow waters, and navigating through rivers and streams. These boats are a practical choice for those seeking a reliable and budget-friendly option.
For visitors and occasional boaters, boat rentals are available across Georgia's lakes and coastal areas. Boat rental companies offer a wide selection of boats, from fishing boats to pontoon boats, allowing individuals and families to enjoy a day on the water without the commitment of ownership. Boat rentals provide an accessible and convenient way for everyone to experience the joy of boating and explore the scenic beauty of Georgia's waterways.
With all the boating opportunities in Georgia, it's no wonder there is so many boat dealers throughout the state offering a wide variety of boats for sale. If you like to sightsee, cruise, fish or water ski, there are dealers with your dream boat for sale. To locate a dealer near you, first select a quadrant of the state. Then find a boat dealer listed by proximity to cities, waterways, campgrounds and attractions in GA.
Locate boats for sale throughout GA
For further information about boat registration in Georgia, contact the Wildlife Resources Division - License & Boat Registration Unit - Boat Licenses located at 2065 US Hwy 278, SE, Social Circle, GA 30025. The phone number is 800 366-2661.
New & Used Boats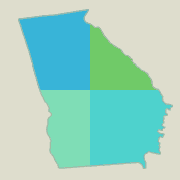 Some of the major cities we have listed for your convenience include Greensboro, Tybee Island, Columbus, Palmetto, Valdosta, Augusta, Darien, Elberton, Evans, Atlanta, Albany, Bainbridge, Chatsworth, Thomasville, Macon, Brunswick, Bishop, Kingsland, Savannah and Cartersville.
Georgia boat dealers are familiar with boating requirements in GA. They can easily assist you in selecting the right boat for your intended use, as well as make suggestions for boating safety and ways to keep operating costs to a minimum.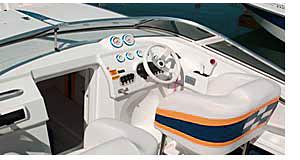 Most of these boat dealers offer new and used boats in many styles and configurations. You can find fishing boats, deck boats, pontoon boats, bow riders and party boats. Some boat dealers may also offer bay and offshore boats for larger bodies of water and coastal use.
Places to boat in Georgia
Once you acquire the ideal boat, we'll help you find places to boat in Georgia. Lakes are listed by quadrant within the state for convenience. The list of major lakes includes Clarks Hill Lake, Hartwell Lake, Chatuge Lake, Hartwell Lake, Richard B Russell Lake, Giddons Pond, Lake Allatoona, Lake Jackson, Big Pond, Lake Harding, Lake Sidney Lanier, Blue Ridge Lake, Oconee Lake, Lake Blackshear, Lake Seminole, Lake Tholocco, West Point Lake, Banks Lake, Lake Martin and Walter F. George Reservoir.
Rivers too can be a fun place to go boating and are listed by quadrant also. Some of the major rivers we've identified include Flint River, Ochlockonee River, Chatahoochee River, Choppee River, Oconee River, Broad River, Altamaha River and Etowah River.
Find boats for sale in Georgia
Northwest GA Boats For Sale
Northeast GA Boats For Sale
Southwest GA Boats For Sale
Southeast GA Boats For Sale
Boat companies and manufacturers in Georgia
Throughout GA you may find manufacturers of boats, trailers or boat accessories including Baycraft Boats and Carolina Skiff Boats.
Boat types commonly used on GA waters.
If you are looking for a specific type boat, we may have information for you. Some of the boat types we cover include sailboats, pleasure boats, family boats, pontoon boats, cruisers, fishing boats, bass boats, speedboats, inflatables, jon boats, cuddy cabin boats, canoes, car toppers, ski & wake board boats, deck boats, aluminum boats, electric boats, jet skis, personal watercraft and fish-and-ski combos.
We'll help you find the boat, waterways and resources to make owning or renting a boat in Georgia an absolute pleasure.
Boats in Other States