Inflatable Boats
The Lightest Boat of All: The Inflatable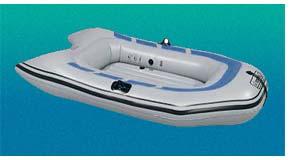 Inflatable boats are lightweight for easy transport and handling. There are several different inflatable boat models, depending on your individual needs. Most inflatable boat owners enjoy a range of water activities such as fishing, river floating, white water rafting, or even ocean exploration. Other common uses for inflatable boats include, yacht tenders, scuba diving and rescue boats. Some inflatable boat models can accommodate various sized motors as well.
Buy or rent an inflatable boat.
If you are interested in finding more information about inflatable boats, the many uses, manufacturers, specifications, replacement parts, and accessories, the allinflatables.com website is a terrific resource. Inflatable boats are cheap, easy to use, and portable, giving you and your family fun in whatever waterway you want to play in.
If you are searching for a new or used inflatable boat, or inflatables for rent, look through the list on the left or visit the boat dealers page.
Quick Links
Fishing Boats For Sale
Bass Boats
Ski Boats For Sale
New & Used Jon Boats
New & Used Jet Skis
Canoes
Speed Boats
Inflatable Boats
Sailboats & Sailing
Electric Boats
Map For Lakes & Boating
Boat Shows
Kayaks For Sale
Boat Loans & Rates
Luxury Yachts For Sale
Inboard-Outboard Motors
Deck Boats
Boat Accessories
Boat & Boating Safety
Boat Trailers For Sale
Many inflatable boats come as whole units, but some models can be disassembled for added convenience and smaller storing capacity. The smaller, more tightly packed version comes in handy especially for those who may need to hike in order to reach a specific waterway or launch point and will carry the boat to the waterway. Modern materials used in inflatable boat construction include strong plastics such as, PVC, Strongan, or Dupont Hypalon, which help resist punctures. Inflatable boats have flexible tubes of pressurized gas used as support for the sides and bow section while others have an inflated keel, for improved handling.
There are several types of bottoms for inflatable boats. Some boat bottoms are made of flexible rubber that can be inflated or plain while other inflatable boat models have rigid bottoms made of materials such as aluminum, steel or wood. A rigid base on the boat helps to protect the boat from catching on snags in the water and can provide greater comfort than an inflatable boat without the rigid sections.
Top inflatable boat manufacturers across the United States include:
• Zodiac;
• Sea Eagle;
• Mercury;
• Caribe;
• Achilles; and
• Ribcraft
With an average cost of $600 to $10,000 for the smaller 7' to 15' inflatable boats, inflatable boats are inexpensive and a great way for a new boater to break into the sport of boating.

Boats & Boating
New and used inflatable boats.