Deck Boats & Family Boats
Hit the Deck: Hours of Fun in a Deck Boat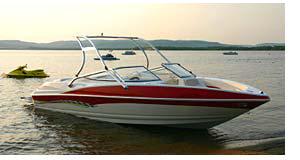 A deck boat is a powerboat typically used for family fun, fishing, cruising, and a variety of water sport activities such as knee boarding, wake boarding, skiing, and tubing. Many believe the deck boat is the SUV of the boating world as the popular deck boats are sleek, versatile, affordable, and durable. Constructed of fiberglass or aluminum and designed with a V-hull, deck boats are both fast and highly maneuverable. Of the two choices, aluminum is 50% lighter in weight, more fuel efficient, requires less maintenance, and is easier to load on to a trailer.
Deck boats offer fun on the water for family and friends. Find deck boats for sale by boat dealers, conveniently listed by state and city under the "Boat Dealers" pull down navigation above.
With a more open deck space, deck boats accommodate a higher number of passengers. Some models come equipped with various accessories for skiing and other water sports.
Many deck boats have retractable bimini tops, which offer great shade and protection from the elements when open or allow for tanning and the ability to reach faster speeds when closed. If your deck boat does not have a bimini top, you are missing a great accessory.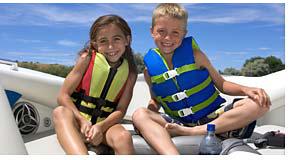 A few of the top deck boat manufacturers include Hurricane, Suncruiser, Crownline, Chaparral, and Tahoe, all of which are for sale new or used at most leading boat retailers. Other sources for used deck boats are your local classifieds, online boat classifieds or boat trader magazines and newspapers.
Quick Links
Fishing Boats For Sale
Bass Boats
Ski Boats For Sale
New & Used Jon Boats
New & Used Jet Skis
Canoes
Speed Boats
Inflatable Boats
Sailboats & Sailing
Electric Boats
Map For Lakes & Boating
Boat Shows
Kayaks For Sale
Boat Loans & Rates
Luxury Yachts For Sale
Inboard-Outboard Motors
Deck Boats
Boat Accessories
Boat & Boating Safety
Boat Trailers For Sale
If you have never owned a boat before, a deck boat would be a great place to start. Size, affordability, and versatility make deck boats a must have for any active water loving family or avid angler. Averaging 14 to 24 feet in length with between 30 to 300 horsepower capacity these boats definitely have get-up-and-go. New deck boats cost between $12,000 and $45,000 depending on size, materials, motor, and accessories.
Whether you want to fish, participate in active water sports, or just soak up the sun on the water with a glass of wine, deck boats provide the avenue to enjoy the water.
Local deck boat dealers by state.

Boats & Boating
Family boats and deck boat dealers.