Montana Boats
Boat dealers and boats for sale in MT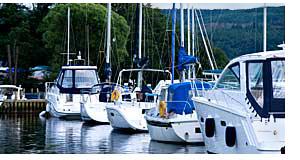 Montana, a state known for its stunning landscapes and outdoor adventures, offers a vibrant boating culture to residents and visitors alike. Boats for sale in Montana can be found in various markets and dealerships, catering to different preferences and budgets. Whether it's for fishing, recreational boating, or water sports, boat enthusiasts can find a wide selection of new and used boats to suit their needs.
The state boasts an abundance of major lakes, each offering its unique charm and recreational opportunities. Flathead Lake, with its breathtaking mountain views, is the largest natural freshwater lake west of the Mississippi River and a popular boating destination. Additionally, the expansive Fort Peck Reservoir, nestled in the eastern part of the state, provides ample room for boaters to explore and enjoy water-based activities. Canyon Ferry Lake, Holter Lake, and Lake Koocanusa are among the other major lakes where boaters can embark on memorable adventures.
Montana's boating scene includes various boat types to cater to different activities and interests. For avid anglers, fishing boats are a popular choice, ranging from bass boats optimized for bass fishing to specialized walleye boats designed for targeting the state's prized walleye species. Family boats, like bowriders and deck boats, are well-suited for recreational outings with loved ones, providing comfort and space for leisurely cruises and water activities. Pontoon boats, known for their stability and socializing features, are excellent options for relaxing on the water with family and friends. Powerboats, encompassing various designs and sizes, offer speed and exhilaration for water sports enthusiasts seeking thrilling experiences.
Among the diverse boat types, aluminum boats hold a special place in Montana due to their durability and versatility. Well-suited for fishing and exploring shallow waters, aluminum boats are a preferred choice for anglers and outdoor adventurers. Their rugged construction makes them ideal for navigating various water conditions, including rivers and lakes, making them a popular option for those looking for reliable and low-maintenance boats.
For those who wish to experience the joys of boating in Montana, boat rental services are available across the state. Boat rental companies offer a range of watercraft, including fishing boats, pontoon boats, and kayaks, providing the flexibility to explore Montana's waterways without the commitment of boat ownership. Whether it's a day of fishing on a tranquil lake or a leisurely cruise on a scenic river, boat rentals offer an accessible and convenient way to make the most of Montana's stunning boating opportunities.
With all the boating opportunities in Montana, it's no wonder there is so many boat dealers throughout the state offering a wide variety of boats for sale. If you like to sightsee, cruise, fish or water ski, there are dealers with your dream boat for sale. To locate a dealer near you, first select a quadrant of the state. Then find a boat dealer listed by proximity to cities, waterways, campgrounds and attractions.
Locate boats for sale throughout MT
For further information about boat registration in Montana, contact the Montana Fish, Wildlife & Parks - Boat Licenses located at 1420 East Sixth Avenue, Helena, MT 59620. The phone number is 406 444-2535.
New & Used Boats
Montana Resources
Kalispell
Taylor Sailmakers
1400 South Woodland Drive
Kalispell, MT 59901
406 755-4218
Missoula
Big Sky Inflatables
5000 Us Highway 93 S
Missoula, MT 59804
406 251-3337
Gull Boats And Rv
2601 W Broadway St
Missoula, MT 59808
406 532-5607
Helena
Caird Boat Works
1308 Orange Ave
Helena, MT 59601
406 442-8009
Montana Boat Center
2531 N Montana Ave
Helena, MT 59601
406 443-6400
Billings
TNT Automotive & Marine Sales & Service
2651 Gabel Road
Billings, MT 59102
406 896-1440
Some of the major cities we have listed for your convenience include Sidney, Roundup, Butte, Missoula, Townsend, Glasgow, Broadus, Malta, Saco, Great Falls, Anaconda, Bozeman, Lakeside, Helena, Ureka, Billings, Havre, Glendive, Miles City and Kalispell.
Montana boat dealers are familiar with boating requirements in MT. They can easily assist you in selecting the right boat for your intended use, as well as make suggestions for boating safety and ways to keep operating costs to a minimum.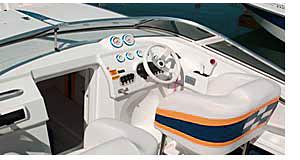 Most of these boat dealers offer new and used boats in many styles and configurations. You can find fishing boats, deck boats, pontoon boats, bow riders and party boats. Some boat dealers may also offer bay and offshore boats for larger bodies of water and coastal use.
Places to boat in Montana
Once you acquire the ideal boat, we'll help you find places to boat in Montana. Lakes are listed by quadrant within the state for convenience. The list of major lakes includes Fresno Reservoir, Lake Bowdoin, Flathead Lake, Hungry Horse Reservoir, Medicine Lake, Canyon Ferry Lake, Lake Elwell/Tiber Reservoir, Lake Koocanusa, Cooney Reservoir, Deadmans Basin Reservoir, Lake McDonald, Fort Peck Lake, Nelson Reservoir, Clark Canyon Reservoir, Georgetown Lake, Tongue River Reservoir, Lake Helena, Bighorn Lake, Hebgen Lake and Hauser Lake.
Rivers too can be a fun place to go boating and are listed by quadrant also. Some of the major rivers we've identified include Big Hole River, Bitterroot River, Flathead River, Rosebud Creek, Poplar River, Milk River, Big Horn River and Teton River.
Find boats for sale in Montana
Boat companies and manufacturers in Montana
If you are looking for a specific type boat, we may have information for you. Some of the boat types we cover include sailboats, pleasure boats, family boats, pontoon boats, cruisers, fishing boats, bass boats, speedboats, inflatables, jon boats, cuddy cabin boats, canoes, car toppers, ski & wake board boats, deck boats, aluminum boats, electric boats, jet skis, personal watercraft and fish-and-ski combos.
Boats in Other States