West Virginia Boat Rentals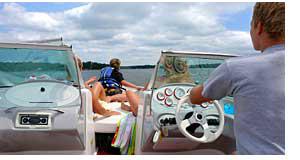 West Virginia offers a variety of boat rental options, allowing visitors and residents to explore its major lakes and waterways. Some of the state's prominent lakes, such as Summersville Lake, Stonewall Jackson Lake, and Cheat Lake, are popular destinations for boating enthusiasts. These lakes provide picturesque settings and ample opportunities for recreational boating and water sports.
When it comes to rental boats, West Virginia caters to various preferences and needs. Families looking for a leisurely and comfortable boating experience can opt for pontoon boats. These spacious vessels are ideal for enjoying a relaxing day on the water with family and friends, taking in the scenic views and basking in the sun.
For those seeking a bit more excitement, powerboats are available for rent. Powerboats offer thrilling experiences with their speed and agility, making them perfect for water skiing, tubing, or simply cruising across the lake.
Fishing enthusiasts can find a wide range of fishing boat rentals in West Virginia. From bass boats equipped with specialized fishing gear to walleye boats designed for angling adventures, these rentals allow visitors to enjoy the state's excellent fishing opportunities.
Moreover, the variety of boat types available for rental ensures that everyone can find a vessel that suits their preferences. Whether it's a sleek and speedy motorboat, a comfortable pontoon boat, or a specialized fishing boat, West Virginia's boat rentals cater to all types of boating enthusiasts.
West Virginia's boat rental services and its diverse array of rental boats make it a fantastic destination for both seasoned boaters and beginners looking to explore the state's beautiful lakes and waterways. With options ranging from family-friendly pontoons to high-powered speedboats and dedicated fishing vessels, there's something for everyone to enjoy on the water in the Mountain State.
Significant numbers of people in West Virginia rent boats each year for family vacations, fishing, skiing, and other recreational, water activities. Often potential boat buyers may rent a boat as a way of comparing models and types of boats to get a better idea of which boat they would prefer to purchase. Most types of boats are available for rent. Inflatable boats, canoes and kayaks are rented for leisurely or adventurous river getaways. Larger craft are rented for fishing or a family get togethers on larger lakes, rivers and coastal waters.
We list West Virginia boat information by city for your convenience. We include major cities like Elizabeth, Gassaway, Moundsville, Parkersburg, Wheeling, Clarksburg, Fairmont, Fort Ashby, Martinsburg, Morgantown, Beckley, Charleston, Huntington, Madison, Teays Valley, Lewisburg, Marlinton, Richwood, Ronceverte and Summersville. Contact local boat dealers and fishing boat dealers for boat rental information.
Boat rentals for skiing, fishing, cruising, sailing and just plain fun in waters throughout West Virginia may also be available at marinas. Some of the marinas in WV include Broadway Marina, Island Marina & Campground, Edgewater Marina, Sunset beach marina, Beech Fork Lake Marina, East Lynn Lake Marina, Long Point Marina and Summersville Lake Marina.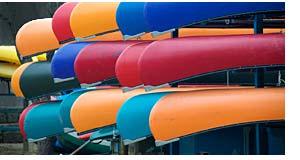 Doing a bit of research before heading out to rent a boat can often save a lot of time and make the rental process more enjoyable. Choosing resources with good reputations for dependable boats, at fair prices can enhance your chances for a great day on the lake. By calling ahead you can confirm rates, availability and boat capacity limits to meet the needs of your boating party. Renting anything, from a canoe to a houseboat can provide memories that last forever.
Boats of all types for rent in West Virginia.
Throughout the state one can rent sailboats, pleasure boats, family boats, yachts, pontoon boats, fishing boats, bass boats, speedboats, inflatables, jon boats, cruisers, cuddy cabin boats, canoes, car toppers, ski and wake board boats, deck boats, aluminum boats, electric boats, jet skis, personal watercraft and fish-and-ski combos. Many of these boats are for rent at multiple locations throughout West Virginia. Search for boat rentals in WV by choosing boat dealers listed by region of the state. They are then organized by proximity to cities, waterways and other attractions.
Northwest WV Boat Rental
Northeast WV Boat Rental
Southwest WV Boat Rental
Southeast WV Boat Rental
Find boats for rent in other states.